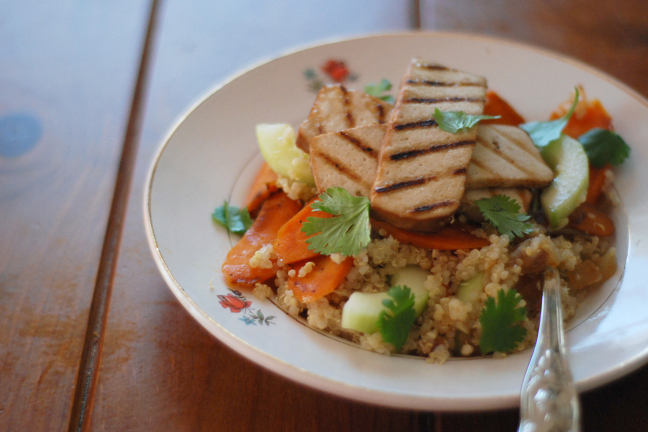 If you're already disappointed to see another salad showing up here, I can only arguee that, being a big salad eater, I can't help myself but posting salad recipes, as they are a very important component of my everyday eating. I know this might sound like common sense, in the way that most of the people I know think that vegans and vegetarians live on salads. But, as we all know, the word salad isn't necessarily a synonym for lettuce leaves and raw tomatoes tossed with a boring dressing mostly made of olive oil and vinegar (at this point I think I'm more describing the classic portuguese salads served on restaurants and cafés rather than anything else, which I happen to eat almost everytime I go out for a meal).
Salads, at least for me, when balanced in nutrional terms, make wonderful main courses. This quinoa salad is one of those complete meals: you have the grain (quinoa), veggies (carrots cucumbers and caramelized onions) and a source of protein (grilled tofu), all tossed with a (I promise) not-so-boring brown rice vinegar and ginger dressing. It's the kind of food I usually have for lunch (and dinner, if I happen to have some leftovers). Well, it's actually my kind of food. If you give it a try, I hope you like it as much as I do.
Ingredients:
(serves 3)
¾ cup quinoa
2 x ¾ cup water (approximately 300 ml)
3 medium-size carrots, peeled and cutted into thin rounds
1 large onion, chopped
1 small cucumber, peeled, seeded and diced into 1cm thick rounds
250 gr tofu, cutted into slabs
2 teaspoons tamari
2 tablespoons chopped coriander
for the dressing:
4 teaspoons agave nectar
2 teaspoons olive oil
4 tablespoons brown rice vinegar
1 tablespoon freshly squeezed ginger juice
1. Start by cooking the quinoa: bring a pot with the water to a boil and add the grains. Reduce the heat to low-medium, and let simmer, covered, for 20 minutes, or until all the water is evaporated. Add a pinch of sea salt (about ¼ teaspoon) and a drizzle of olive oil when it's done.
2. Heat one tablespoon of olive oil in a frying pan, add the onion, a pinch of salt, and let it cook, stirring occasionally to prevent it from sticking to the pan, for at least 10 minutes, or until deeply caramelized. Transfer to a bowl and set aside.
3. In the same pan in which you cooked the onion, add the carrots. At this point, you don't need to add more oil. Cook the carrots for about 3 to 4 minutes on each side, or until they get crispy and toasted. You might want to do this in several batches, in order not to overcrowd the pan and to have the slices evenly cooked. When they're done, transfer them to another bowl and set aside.
4. Brush the tofu slabs with olive oil. Place them in a hot grilling pan, and grill for about 4 minutes on each side. Transfer to a plate and toss with the tamari.
5. In a small bowl, combine all the ingredients for the dressing and whisk well.
6. Transfer the quinoa, onion, carrots and diced cucumber to a large bowl and toss with the dressing.
7. To serve, divide the salad into 3 deep plates and pile the tofu atop salad on each plate. Sprinkle with chopped coriander.