Soba Noodles with Edamame and Miso Dressing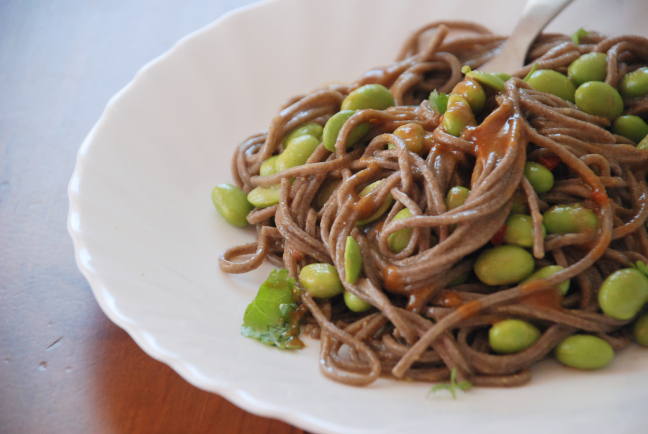 This post will lack an introduction, but as I'm not very good at it (and I already introduced myself and the purposes of this blog in the about section), I'll go straight to the issue: vegan recipes. And to start with, I've choosen one that is actually a favorite in this household. It's a recipe for soba noodles with a tangy miso dressing that I fell in love with the first time I tried it. The dressing is a perfect match to barely cooked edamame beans, which give some crunchiness and add proteins to the dish. If you don't have edamames at hand, I bet some chickpeas, cooked and lightly toasted on the pan, would also make it. Quick, nutritious and healthy, perfect for this time of the year, when you don't feel like spending that much time in the kitchen and just want to throw lunch in a couple of minutes. Soba noodles with edamames and miso dressing, here we go.
Ingredients:
(serves 4)
225 gr soba noodles
1 and 3/4 cups edamame beans
For the dressing:
3 tablespoons miso (choose a light variety, such as Mugi)
4 tablespoons lemon juice
6 tablespoons orange juice
2 tablespoons olive oil
1 tablespoon toasted sesame oil
2 and 1/2 tablespoons agave nectar
1 fresh red chili pepper
1. In a bowl, combine the ingredients for the dressing. Whisk until well incorporated, cover and set aside.
2. Pour about 2 liters of water in a pan, let it boil, and add the edamame beans. Cook the beans for 2/3 minutes. Drain and wash them under cold water.
3. Return the pan to the stove, let the water boil again (use the water in which the beans were cooked) and add the noodles. Cook for 6 to 7 minutes. Drain and wash under cold water.
4. In a large bowl, combine the beans and soba noodles. Stir in about 6 tablespoons of the dressing and mix well.
5. Serve at room temperature and drizzle some more dressing on top of each plate if you like.