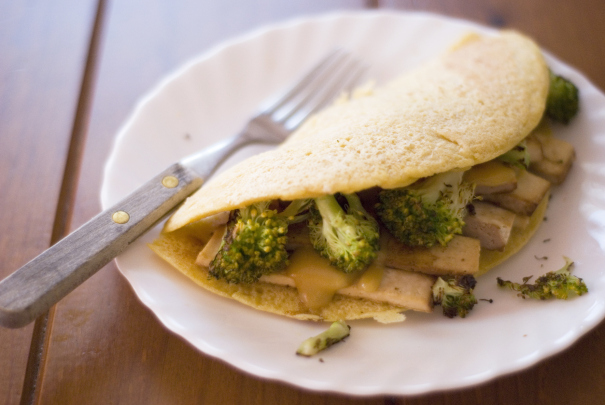 I had never heard about gram omelettes until last saturday. I was having dinner at some friends house when one of them spelled the magic words: "vegan gram omelettes". Back in my pre-vegan days, I wasn't that much of a fan of omelettes at all. But omelettes do really bring me back good moments. And by good moments I mean all those very late dinners with my boyfriend when, having nothing but some eggs and cheese sitting on the fridge, I'd cook a cheesy omelette for the two of us. We'd then enjoy it along with a simple leafy salad, some grains (usually couscous or bulgur), and a glass of wine. It was simple, tasty, and filled our bellies.
But since I went vegan, I almost forgot about omelettes. I though I could never reproduce it, or at least make something similar to it in texture, as I don't care too much for the taste of the real thing. Gram flour not only does the trick as it also packs a lot of flavor. The texture of this version is more dense than the one of the omelette made with eggs, but at the same time I found it more satisfying and it really brightens the unique flavor of this particular flour. I like to fold my omelette and fill it with some grilled tofu, pan fried or raw vegetables, and a simple sauce. In the picture above, I drizzled some of leftover tofu marinade I had on hand (made of white miso and mustard), but a yogurt sauce with some chopped herbs would also be a great option. Actually, the possibilities for the filling are endless, just use your own creativity and intuiton and go for it. My boyfriend hasn't tried this yet (I'm looking forward to it), but I bet this will soon replace the egg omelette as our late night dinners fave. Miss you.*
Ingredients:
(makes one omelette of, approximately, 23 cm)
50 grams gram (chickpea) flour
1/2 cup plus 3 to 4 tablespoons of water
olive oil
salt
pepper
1. In a medium bowl, mix the flour with the water and add salt and pepper to taste. If the batter is too thick, add a bit more of water. The consistency you want to achieve is that of a beaten egg.
2. Lightly brush a medium size non-stick skillet with olive oil, and heat it to medium-hot. When it's hot (about 2 or 3 minutes minutes after you have turned on the heat), pour the batter on the pan and cook for about 3 to 4 minutes, or until is golden brown on the bottom, and the top is almost set. Carefully flip with a spatula and cook the other side for another 3 to 4 minutes. Transfer to a plate, cut in half, and fill it with tofu and/or vegetables, or whatever you prefer.