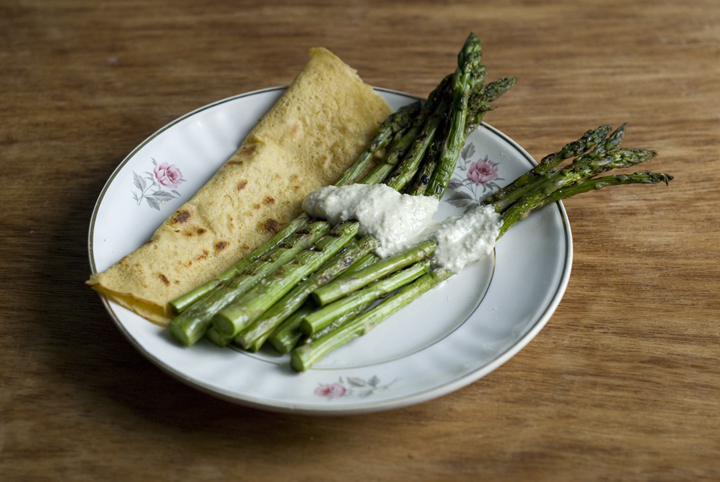 I frequently spot asparagus in supermarkets and groceries stores, but they're so expensive around here that I tend not to buy them. Plus, they usually come from very far away, which means long airplane travels and refrigeration time. I often wonder how long they have been harvested, and as much as I like eating them, that thought keeps me away from bringing them home. However, the other day I spotted locally sourced fresh asparagus and, knowing they're in season, I prepared a simple and practical dish with this spring treat. The thing with asparagus is that you don't want to overcook them as well as masking their flavour by combining them with a hundred different ingredients. With that in mind, this recipe came to live. The sunflower sauce is creamy and delicate in flavour making  a perfect match for the grilled asparagus. I have a recipe for gram crêpes deep in the archives but, as I'm too lazy to check it out and because it's a simple one to write down, I'm reposting it here again. Hope you enjoy this one, I'll be coming back soon. (;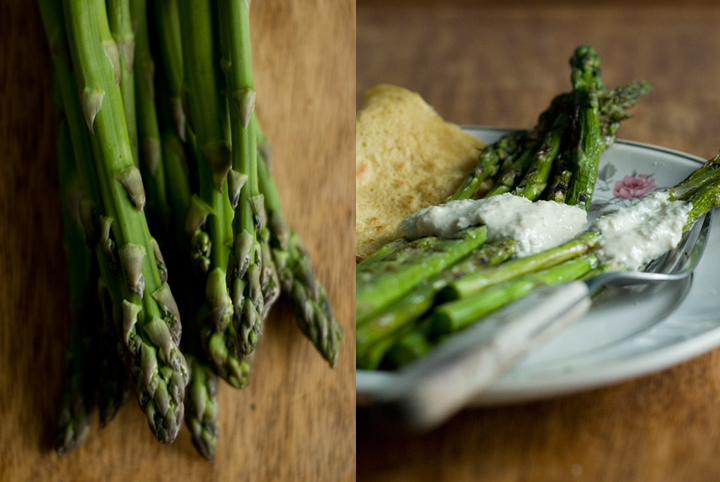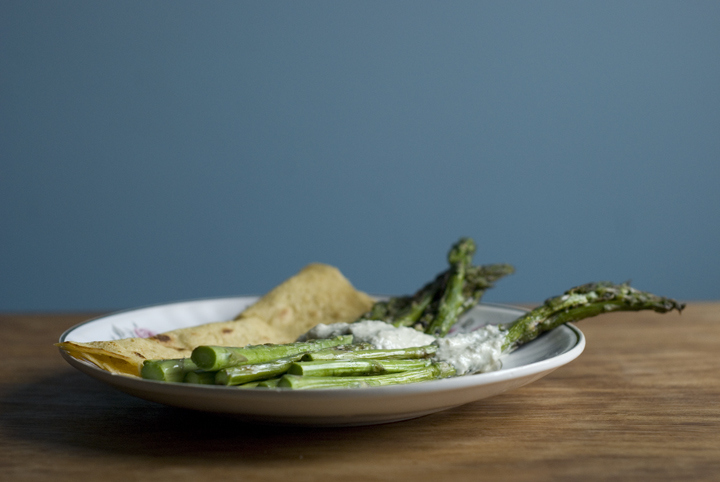 Grilled Asparagus with Sunflower Seed Sauce and Gram Crêpes
(serves 2)
1 bunch / 300g asparagus, trimmed
olive oil
salt
for the sunflower seed sauce:
¼ c. / 35 g sunflower seeds
¼ c. / 65 ml hot water
2 tablespoons olive oil
2 tablespoons freshly squeezed lemon juice
½ teaspoon sal
freshly ground black pepper
for the gram crêpes:
¼ c. / 35 g gram flour
½ c. /125 ml warm water

¼ teaspoon salt
olive oil
For the sauce, add all the ingredients to the bowl of a food processor. Process on high speed for 1-2 minutes or until the sauce gets a fairly smooth consistency. Add more hot water if you want to thin it out a bit and adjust the seasonings to your liking.
To grill the asparagus, start by brushing a griddle pan with olive oil. Turn the heat to medium-high and when the pan is hot, but no smoking, add the asparagus. Sprinkle them with sea salt and grill for 3-5 minutes on each side or until they get visible grilling marks. Set aside.
For the gram crêpes, mix all the ingredients (except the olive oil) in a bowl. Whisk until you get a thin batter with no visible lumps. In the meantime, and using a pastry brush, grease non-stick frying pan and heat it to medium heat. When the pan is hot, but not smoking, add 1/3 cup of the gram batter to it, making sure it evenly covers the bottom of the pan. Cook for 2-3 minutes on each side, being careful not to break the crêpe when turning it over. Add the remaining 1/3 cup of batter to the pan and repeat the proceeding.
To assemble, arrange the asparagus on a plate, spoon the sauce over them and serve the gram crêpes on the side.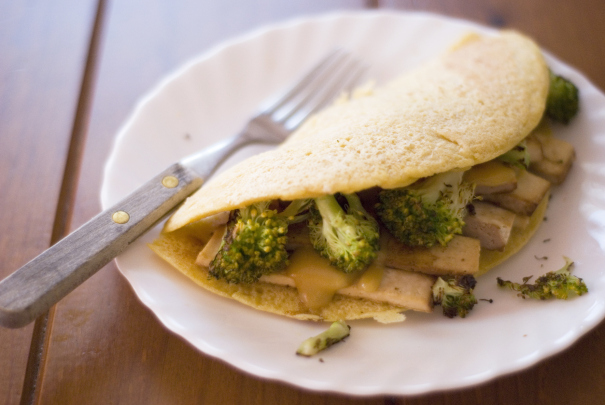 I had never heard about gram omelettes until last saturday. I was having dinner at some friends house when one of them spelled the magic words: "vegan gram omelettes". I've never been a fan of omelettes. But omelettes do really bring me back good moments. And by good moments I mean all those very late dinners with my boyfriend when, having nothing but some eggs and cheese sitting on the fridge, I'd cook a cheesy omelette for the two of us. We'd then enjoy it along with a simple leafy salad, some grains (usually couscous or bulgur), and a glass of wine. It was simple, tasty, and filled our bellies.
But since I've been cooking more and more vegan food, I almost forgot about omelettes. I though I could never reproduce them, or at least make something similar to it in texture, as I don't care too much for the taste of the real thing. Gram flour not only does the trick as it also packs a lot of flavor. The texture of this version is more dense than the one of the omelette made with eggs, but at the same time I found it more satisfying and it really brightens the unique flavor of this particular flour. I like to fold my omelette and fill it with some grilled tofu, pan fried or raw vegetables, and a simple sauce. In the picture above, I drizzled some of leftover tofu marinade I had on hand (made of white miso and mustard), but a yogurt sauce with some chopped herbs would also be a great option. Actually, the possibilities for the filling are endless, just use your own creativity and intuiton and go for it. My boyfriend hasn't tried this yet (I'm looking forward to it), but I bet this will soon replace the egg omelette as our late night dinners fave. Miss you.*
Ingredients:
(makes one omelette of, approximately, 23 cm)
50 grams gram (chickpea) flour
1/2 cup plus 3 to 4 tablespoons of water
olive oil
salt
pepper
1. In a medium bowl, mix the flour with the water and add salt and pepper to taste. If the batter is too thick, add a bit more of water. The consistency you want to achieve is that of a beaten egg.
2. Lightly brush a medium size non-stick skillet with olive oil, and heat it to medium-hot. When it's hot (about 2 or 3 minutes minutes after you have turned on the heat), pour the batter on the pan and cook for about 3 to 4 minutes, or until is golden brown on the bottom, and the top is almost set. Carefully flip with a spatula and cook the other side for another 3 to 4 minutes. Transfer to a plate, cut in half, and fill it with tofu and/or vegetables, or whatever you prefer.