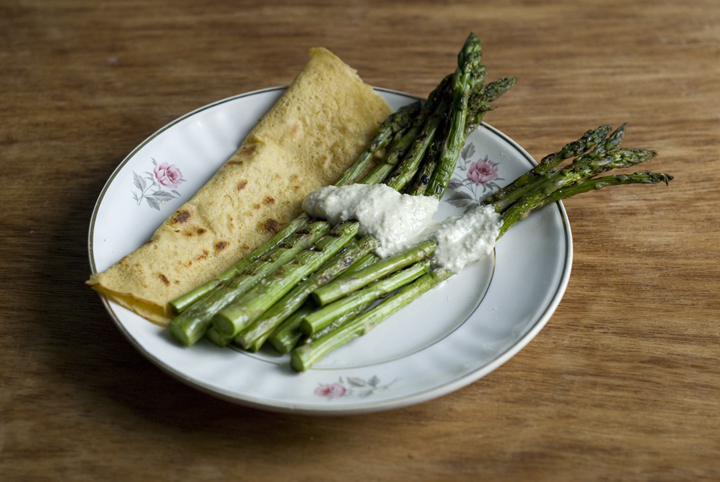 I frequently spot asparagus in supermarkets and groceries stores, but they're so expensive around here that I tend not to buy them. Plus, they usually come from very far away, which means long airplane travels and refrigeration time. I often wonder how long they have been harvested, and as much as I like eating them, that thought keeps me away from bringing them home. However, the other day I spotted locally sourced fresh asparagus and, knowing they're in season, I prepared a simple and practical dish with this spring treat. The thing with asparagus is that you don't want to overcook them as well as masking their flavour by combining them with a hundred different ingredients. With that in mind, this recipe came to live. The sunflower sauce is creamy and delicate in flavour making  a perfect match for the grilled asparagus. I have a recipe for gram crêpes deep in the archives but, as I'm too lazy to check it out and because it's a simple one to write down, I'm reposting it here again. Hope you enjoy this one, I'll be coming back soon. (;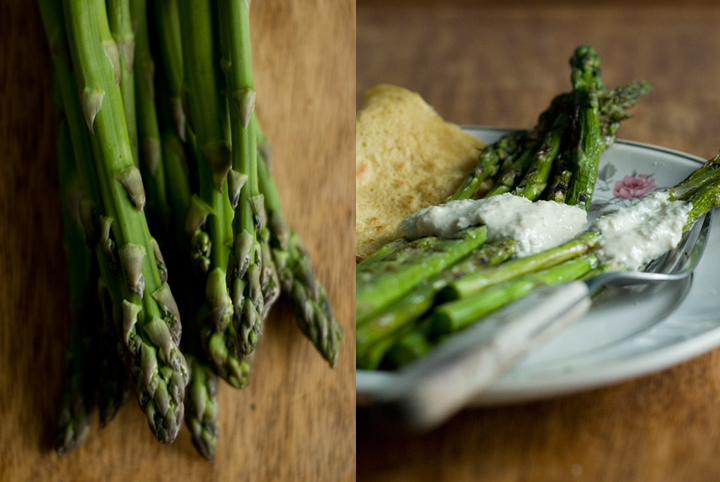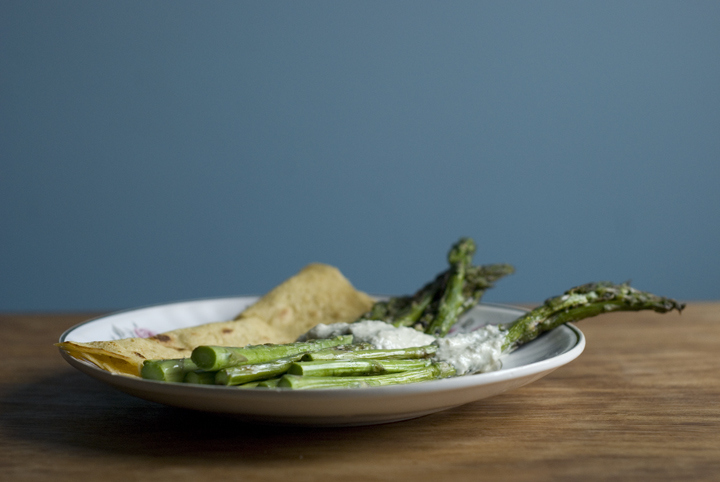 Grilled Asparagus with Sunflower Seed Sauce and Gram Crêpes
(serves 2)
1 bunch / 300g asparagus, trimmed
olive oil
salt
for the sunflower seed sauce:
¼ c. / 35 g sunflower seeds
¼ c. / 65 ml hot water
2 tablespoons olive oil
2 tablespoons freshly squeezed lemon juice
½ teaspoon sal
freshly ground black pepper
for the gram crêpes:
¼ c. / 35 g gram flour
½ c. /125 ml warm water

¼ teaspoon salt
olive oil
For the sauce, add all the ingredients to the bowl of a food processor. Process on high speed for 1-2 minutes or until the sauce gets a fairly smooth consistency. Add more hot water if you want to thin it out a bit and adjust the seasonings to your liking.
To grill the asparagus, start by brushing a griddle pan with olive oil. Turn the heat to medium-high and when the pan is hot, but no smoking, add the asparagus. Sprinkle them with sea salt and grill for 3-5 minutes on each side or until they get visible grilling marks. Set aside.
For the gram crêpes, mix all the ingredients (except the olive oil) in a bowl. Whisk until you get a thin batter with no visible lumps. In the meantime, and using a pastry brush, grease non-stick frying pan and heat it to medium heat. When the pan is hot, but not smoking, add 1/3 cup of the gram batter to it, making sure it evenly covers the bottom of the pan. Cook for 2-3 minutes on each side, being careful not to break the crêpe when turning it over. Add the remaining 1/3 cup of batter to the pan and repeat the proceeding.
To assemble, arrange the asparagus on a plate, spoon the sauce over them and serve the gram crêpes on the side.
I haven't been in the kitchen that much in the past few days, hence the lack of posting around here. I have to confess I've been feeling lazy to cook, also because here in Portugal we've been under extremely hot temperatures -  around 35º degrees -, and all I don't want to do is to spend time in front of an hot stove. So, nothing better than a great and easy salad recipe such as this one, that will only take you a few minutes to prepare.
The only trick in here is to make sure the cabbage is sliced very thinly; if not, the salad will not be as light as it is supposed to be. As far as the dressing goes, it was my first time putting together tahini and miso, and I was surprised by how well the combination worked out: the nutty taste of the tahini seems to soften miso's typical saltiness, without actually masking its taste. If you shred the cabbage and make the dressing ahead of time, you can put this salad together in less than five minutes. I served this at room temperature, but I bet it would be delicious served cold too. If you're planning to do the latter, place the salad in a large bowl, cover with cling film, and refrigerate it for 1 to 2 hours or until chilled to your liking. This method will also help the flavors meld together, contributing for a tastier salad.
Chickpea and Shredded Cabbage Salad with Miso Tahini Dressing
(serves 3, as a side)
260 grams canned chickpeas, drained and rinsed
1 small cabbage (180 grams)
1 teaspoon minced chilli
for the dressing:
1 tablespoon tahini
1 tablespoon mugi miso
2 tablespoons lemon juice
2 tablespoons warm water
1 tablespoon olive oil
2 teaspoons agave nectar
1. Start with the cabbage: cut it into halves, remove the hard core, and shred each halve into very thin strips. You don't want to have very long strips, so cut them in half if needed.
2. In a large bowl, combine the chickpeas and shredded cabbage. Set aside.
3. For the dressing, combine all the ingredients in a medium size bowl, and whisk them together until you achieve a creamy consistency. At this point, you can add a bit more water if you want a thinner dressing, although I like mine on the creamy, slightly thick side.
4. Add half of the dressing to the bowl with the chickpeas and cabbage and toss everything together. At this point, you can refrigerate the salad for at least 1 hour or, as I did, serve it at room temperature.
5. To serve (either cold or at room temperature), divide the salad among 3 plates, sprinkle with the minced chilli, and spoon the remaining dressing over the top of each serving. Serve immediately.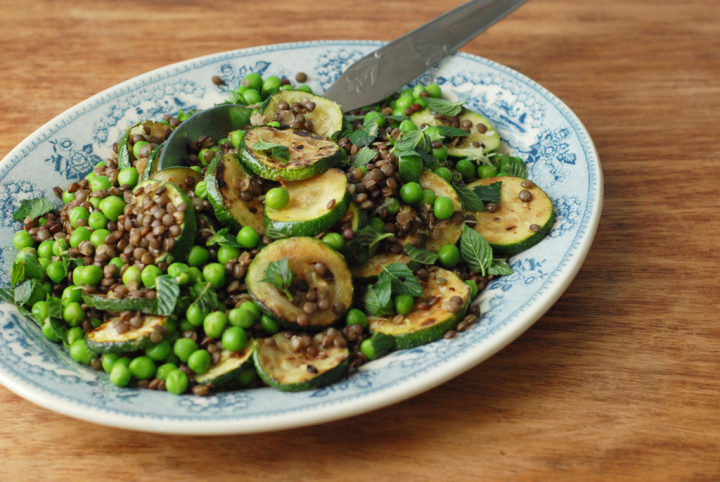 Quite often, when I flip through the pages of a cookbook I have for quite some time, I get surprised to see recipes in there that I never payed attention to before. Usually, those are recipes with no images attached, and I think that's the reason why I (unpurposely) pass them. Today, as I was flipping through Moro East (a cookbook I turn to over and over again), I noticed the shy presence of a recipe titled Peas and Lentils. It immediately caught my attention, as I never though of pairing those two ingredients.  As I was reading through the recipe, I realized it also called for sage and mint. I didn't have sage on hand (besides mint, there was only a bunch of parsley sitting on my fridge), so I decided to substitute the tablespoon of chopped fresh sage they called for in the recipe, for an additional tablespoon of mint. For some reason I can't rationally explain, it seemed to me that mint and parsley wouldn't go very well together, hence my decision in keeping mint as the only herb in the salad, relying on the success the combination of peas and mint always is.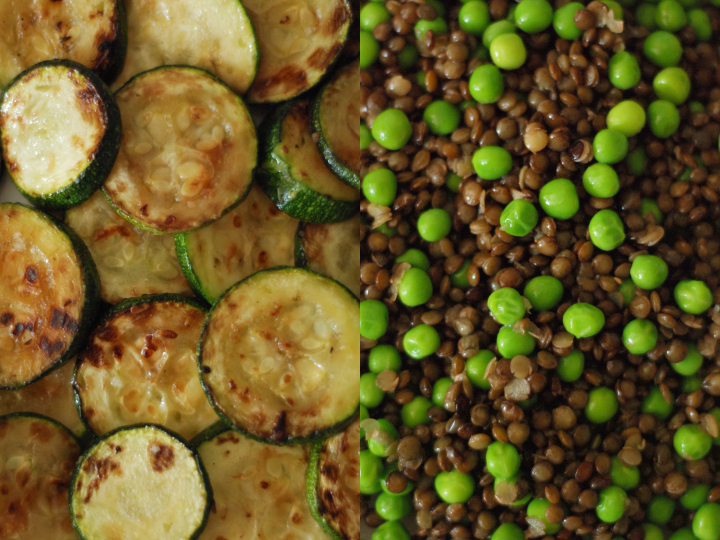 But the combination of peas, mint and lentils is even better. The nutty taste of puy lentils balances the sweetness of the peas, and the addition of mint adds a fresh, summery flavor. In my version, I added sautéed zucchini to the salad not only because I had a lot of zucchini on hand (it seems everybody's having this very same "problem" this time of the year), but also because, cooked this way, zucchini is very versatile and make a nice appearance in any salad. If you're going to make this, I advise you not to substitute the puy lentils for any other kind of lentils, as puy keep their structure and a little bite after being cooked, unlike regular brown lentils, that tend to go mushy and fall apart.
Pea, Lentil and Zucchini Salad
(serves 3, as a side)
90 grams (1/2 cup) puy lentils
150 grams (1 cup) frozen peas
one large garlic clove, minced
300 grams zucchini (a large one), topped, tailed, and cut into thin rounds
1 tablespoon olive oil
a pinch of salt
2 tablepsoons roughly chopped mint
for the dressing:
3 tablespoons olive oil
1 and ½ tablespoons red wine vinegar
a pinch of sugar
1. In a medium size pot, bring 3 cups (750 ml) of water to a boil and add the lentils. Cover and cook, over medium heat, for about 20 minutes, or until just tender. They should be firm, as it is important that they keep their structure. Drain the lentils, refresh under cold water, drain again, and put them in a large bowl.
2. At the same time the lentils are cooking, boil the peas (2 cups – 500 ml – of water is enough) for about 4 minutes. Drain, refresh under cold water, and mix them with the lentils. Add a pinch of salt, toss well, and set side.
3. Heat your largest skillet over medium-high heat, add the olive oil and gralic and fry for one minute.
4. Then, arrange the zucchini rounds in a single layer on the skillet. If your skillet isn't large enough, you may want to do this in two batches. Add a pinch of salt and cook the zucchini for a few minutes until browned. Turn over, one by one, and cook the other side for a few more minutes, adding a bit more salt. When you're done, transfer the zucchini to the large bowl in which you combined the peas and lentils.
5. To make the dressing, combine, in a bowl, the olive oil, vinegar, and sugar and mix well.
6. Add the dressing and mint to the salad and toss well. Serve immediately.
inspired by Moro East, published by Ebury Press