White Bean and Roasted Garlic Tartines with Wilted Greens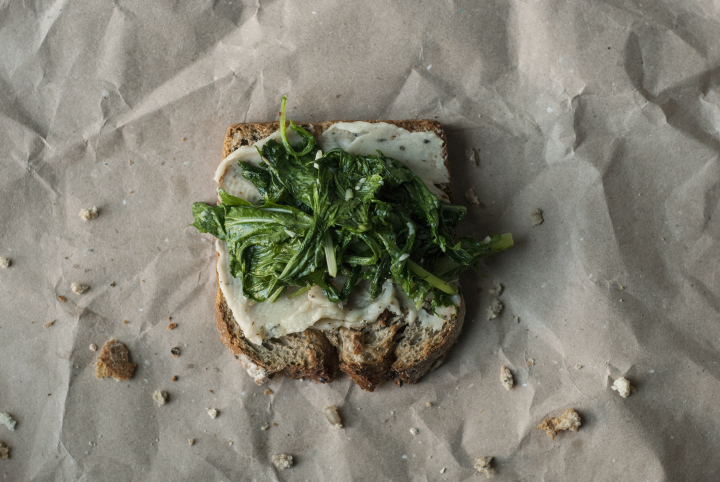 My favourite sources of plant-based proteins are, without doubts, beans and legumes. I've been eating them in abundance since I was a kid (usually in the form of soups) so they've never been things I've had to learn to like.  Part of the reason why I prefer legumes over soy-based products such as tofu, for protein, is because they bring more variety of textures and flavours to the dinner table. Chillis, hearty stews, dips… there's a whole world of possibilities with beans (and there are quite a lot different varieties to try). Besides, they're minimally processed, something tofu isn't.
Casseroles/stews and dips have been my favourite ways of eating beans. White beans work particularly well in veggie dips as they get really soft and smooth when blended. Plus, their taste isn't particularly strong or dominant, so you can play around quite a bit and combine them with a lot of different ingredients (another favourite of mine is the white bean and miso combo). As far as the greens go, I used both spinach and Japanese greens in here. They were simply and quickly (no longer than 2 minutes) sautéed with garlic and olive oil and added atop of the toast for a bit of bitterness. You'll probably end up with more bean dip than you'll actually need for the toasts – the leftovers keep well in the fridge for a week and are really great smeared on savoury pancakes and/or as a filling for lettuce wrappers.
White Bean and Roasted Garlic Tartines with Wilted Greens
(makes 4 to 6 toasts)
for the white bean and roasted garlic dip:
1 large garlic head / 70 g, top sliced off
1 ½ cups cooked white beans  (canned is fine)
¼ teaspoon salt
½ teaspoon dried thyme
¼ teaspoon black pepper
2 tablespoons lemon juice
1 tablespoon olive oil
for the wilted greens:
250 g spinach or Japanese greens or, as I used, a mixture of both in equal parts
1 big garlic clove, minced
2 teaspoons olive oil
1 pinch red pepper flakes
salt to taste
lots of freshly grated nutmeg
4 to 6 slices of a good, whole grain bread
Pre-heat the oven to 180º.
Grab a piece of aluminium foil (15 by 15 centimetres is more than enough) and add a drizzle of olive oil over it. Place the garlic head, cut side down, over the foil and add a pinch or two of salt. Wrap the foil around the garlic head and put it in the oven, in the middle rack. Roast for 30 to 40 minutes.
In the bowl of a food processor, combine the white beans, salt, dried thyme, black pepper, lemon juice and olive oil. Squeeze the roasted garlic cloves out of their skins and add them to the bowl. Process everything until very smooth.
In a cast iron pan over medium heat, add the garlic, olive oil and red pepper flakes and fry for no longer than 30 seconds. Add the greens and gently stir everything together so that the greens get evenly wilted. Cook the greens no longer than 2 minutes and, at the very last moment, add freshly grated nutmeg.
In a separate pan, toast the slices of bread.
Spread a layer of the bean mixture over the bread slices and add the greens on top. Drizzle a bit more olive oil over each toast, if desired, and eat immediately.
One Response
Uma tosta perfeita para um domingo à noite :)