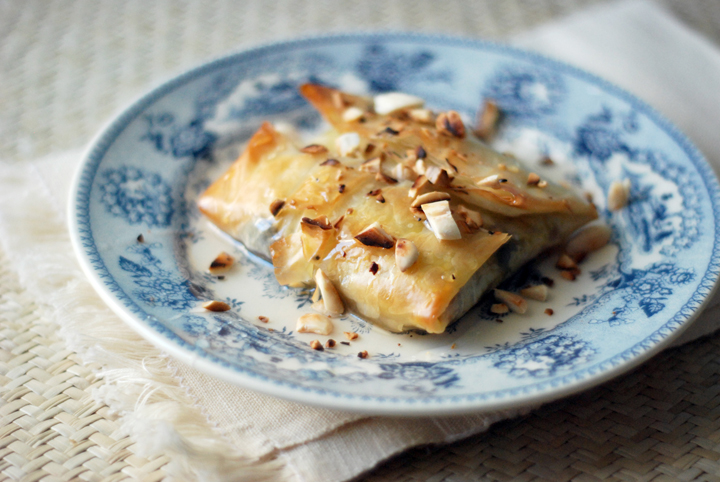 The idea for this dessert has been in my mind for almost a week. I've had some filo pastry on the freezer that would expire next month, so I desperatly needed to use it in some kind of sweet and/or savory treat. I've bookmarked a recipe from Jamie Oliver's book Jamie Does, that basically consisted of feta cheese wrapped up in filo pastry. It looked absolutely stunning. "Are you going to replace the feta cheese for tofu?", my mum asked. "Humn, no. I think I'm going to take this to a whole different level", I replied back. In fact, substituting the feta cheese for tofu was my very first idea, and even though it sounded great, I didn't want to make a dairy free version of Jamie's recipe by using ingredients, such as tofu, that  have a similar look to feta but - let's be honest - don't have that strong character the latter has. I'm glad I've worked on the recipe and made something different from the original source: pears, raisins, and a good amount of Port wine come into play, and thus a new recipe is born.
This recipe is, in fact, very easy to make, and even though filo  is a very delicate pastry, with a bit of practice you manage to work with it very easily. As I was writing the recipe today, I suddendly blocked when it came to explain on how to work and fold the filo sheets. I've done my best to clear it out for you, but I honestly think that's something that would be better explained with the add of a simple drawing. Anyway, I have made no drawing, nor I took pictures of that part of the process, so if any of you have doubts regarding that component of the recipe, I'll draw a quick diagram and post it up here to help you to visualize things. Anyway, don't worry too much on trying to get perfectly shaped rectangle parcels: as long as the filling is sealed, you're good to go.
Pear and Port Wine Filo Pastries
(makes 4 pies)
4 medium sized pears (350 grams), peeled, cored and thinly sliced
1 tablespoon vegan margarine
2 tablespoons muscavado sugar
60 grams (1/3 cup) raisins
60 ml (1/4 cup) port wine
1 teaspoon ground cinnamon
8 sheets filo pastry
olive oil for brushing
a handful of roughly chopped and toasted almonds
agave nectar, for drizzling
1. Pre-heat the oven to 200ºC. Line a baking dish with parchment paper and coat it lightly with olive oil.
2. In a pan over medium-heat, melt the vegan margarine. Once melted, add the sugar, cinnamon, raisins and pears and cook, stirring often, for 5 minutes, or until the pears are cooked through. Increase the heat to medium-high and add the port wine. Bring the mixture to a boil and, once boil, reduce the heat to a simmer and cook for  additional 10 minutes, or until the wine has reduced and the pears look almost caramelized. Set aside to cool.
3. Lay one sheet of filo pastry in you kitchen counter/table. (Keep the remaining sheets wraped up in a damp clean towel, to prevent them from drying out.) Brush it lightly with olive oil and add another sheet on top , so that you "glue" the two sheets together. Now, carefully cut the sheets in half across the width, so that you have 2 long pieces of filo pastry in front of you. Repeat this process with the remaning sheets of filo.
4. In the center of one of these sheets, place 2 to 3 tablespoons of the pear and port wine mixture. Now, flip one of the sides over the filling, so that its end almost reaches the end of the other side. After you've done it, flip the other side as well. Now, you should have 2 open sides parallel to your body. Carefully flip them so that they meet in the center of the parcel. Repeat this process with the remaining sheets of filo.
5. When you're done, place the 4 parcels in a baking dish and bake for 5 to 8 minutes in the preheated oven, or until they're golden brown.
6. To serve, drizzle a little agave nectar over each pastry and scatter some toasted almonds on top.
recipe inspired by Jamie Does, published by Penguin Group, 2010