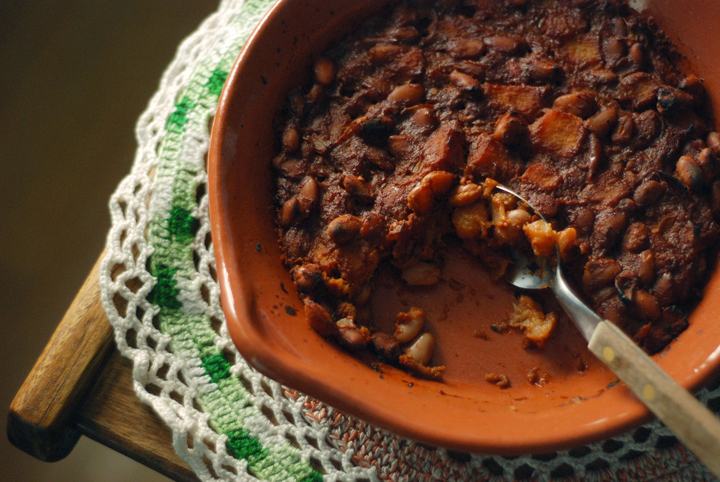 When I went to Serbia, quite some time ago, I stayed at a friend's, Jelena , place. Her dad was/is an excellent cook, and cooked for us almost everyday. He cooked typical serbian and greek food, and I won't never forget the superb baked bean casserole we ate for lunch one day. I can seriously say it was the best baked bean casserole I had to date. Actually, I can even say that Serbia (specifically Belgrade) was the place I've been to that had the greatest food. Mostly, but not all, thanks to Jelena's dad cooking.
Now, when the days start getting colder, I feel for hearty and comfort foods. And having that great brean casserole in mind, I couldn't help myself but coming up with my own version of it. I know some of you might be intrigued by the use of quince in the recipe, but the thing is that quince isn't a sweet fruit at all and can be incorporated in a wide range of savory dishes. Plus, it's now in season.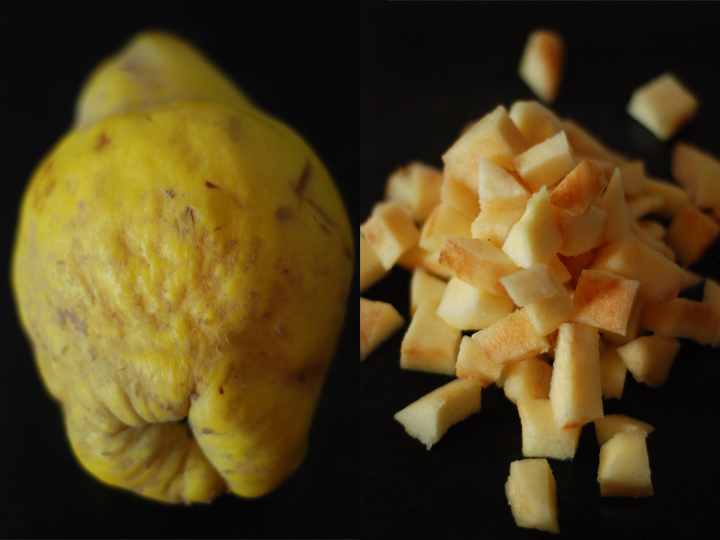 As with most of stews and baked casseroles, this dish tastes even better the day after it's made – the flavors will blend together more overnight, and the beans will really soak up the seasonings and spices -  so make you sure you have some leftovers. Finally, I totally encourage you to cook the beans yourself and not use canned ones in here. Canned beans work great in a lot of recipes, and I use them quite often, but in this particular dish, I doubt they would held their structure (for instructions on how to cook dried beans, see the head notes below). I served this today along with a spinach and grilled eggplant salad, but polenta, potato cakes, or even some simply cooked quinoa, would make great accompaniments as well.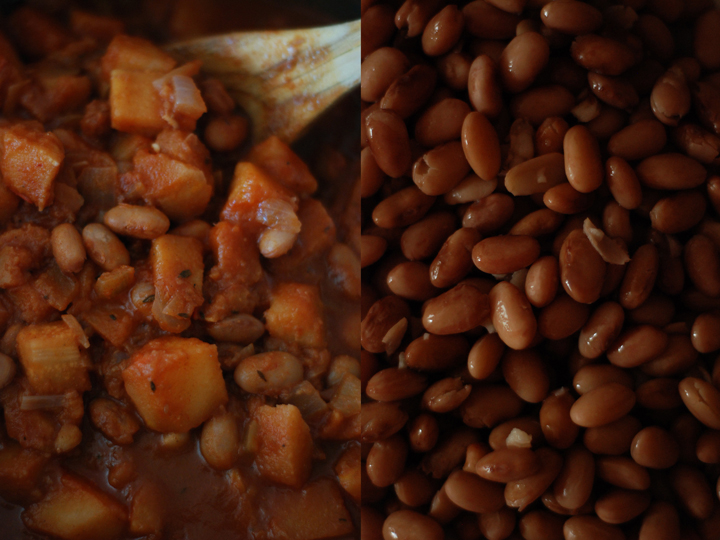 Bean and Quince Casserole
(serves 6)
500 grams cooked beans (cranberry, borlotti or pinto beans)*
2 large quince
juice of 1 lemon
1 large onion, minced
1 tablespoon olive oil
1 small red chili, seeded and minced
1 tablespoon coriander seeds
1 teaspoon cumin seeds
1 teaspoon dried thyme
2 teaspoons paprika
½ teaspoon ground cinnamon
1 cinnamoon stick
1 medium-sized white onion, finely chopped
½ cup water
210 grams tomato paste
¾ cup red wine
1 tablespoon orange zest
3 tablespoons tamari

1.   Pre-heat the oven to 180ºc, racks in the middle. Brush a large round baking   dish with olive oil. Set aside.
2. Start by peeling the quince. Then, cut each of them lengthwise with a long serrate knife, and remove the core. Slice the quince into small cubes, transfer them to a deep plate, and add the lemon juice, mixing well to prevent oxidation.
3. With the help of a mortar and pestle or using a coffee grinder, grind the cumin and coriander seeds until finely ground.
4. Heat a large pan over medium heat. Add the chili, cumin and coriander seeds, dried thyme, paprika, cinnamoon stick, ground cinnamoon, onion, and the olive oil to the pan,  and cook for 5 to 10 minutes, stirring often, or until the onion has softened.
5. Add the water, wine, and the tomato paste to the onion mixture. Once the liquid is simmering, add the cubbed quince and beans. Cover, and cook for 20 to 30 minutes, or until the mixture has thicken up to the consistency of an hearty stew, and the quince is very tender.
6. Turn off the heat and add the tamari and orange zest to the pan. Discard the cinnamon stick.
7. Transfer the mixture to the prepared baking dish and bake in the oven, covered, for 20 to 30 minutes. Let the beans cool for at least 10 minutes before serving.
*To cook dried beans: Soak 2 cups of dried beans in the same amount of water for a few hours, preferably overnight. In a large pot, bring enough water to cover the beans and leave at least 2 cm above the bean level, to a boil. Reduce the heat to medium, add the beans, and cook for 20 to 30 minutes, or until they are just cooked or even slightly undercooked.
Be the first to like this post.
One Response
I was thinking about making a bean casserole the other day and your's looks fantastic. I would never have thought of combining beans and quince though. Looks delicious.