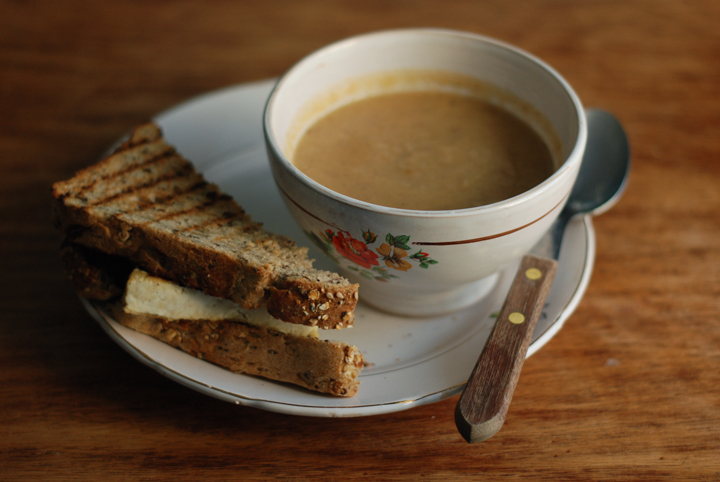 I arguee that cauliflower is one of the most versatile vegetables. Like potatoes, for instance, it can take on big flavors, specially spices. Curried mashed cauliflower is a favorite in this household, as it is the Roasted Cauliflower Soup I'm sharing with you today. There's the general idea that for making a perfect creamy soup, you have to use potatoes: honestly, I think that for that matter, cauliflower does a very great job too. As far as today's soup goes, roasting the cauliflower is the step that will obviously take you longer. Apart from that, the soup only takes a few minutes to put together. And for those of you who might be doubtful about making a soup using cauliflower as the main ingredient, I tell you there's nothing bland about this soup. Actually, roasting the cauliflower with the spices gives this vegetable a totally different personality: as a comparison, think about tofu and how you can make it incredibly tasty just by marinating it  or seasoning it right.
As I was working on the soup today, a couple ideas for some improvements and variations popped up into my head: for instance, I've blended all the ingredients, but I think it would be great to put some roasted cauliflower aside and add it on top of each serving of the soup. Also, I suspect that using half cauliflower and half broccoli, could be an interesting tweak to the recipe. And lastly: I had the soup for lunch today with a very simple tofu sandwich (basically, grilled tofu sandwiched in between to slices of toasted whole-grain bread), but plain toasted bread with a knob of vegan margarine also makes for a perfect accompaniment.
Roasted Cauliflower Soup
Ingredients:
(serves 4)
500 grams cauliflower (1 large), cut into small florets
1 large onion, finely chopped
1 tablespoon cumin seeds
1 tablespoon coriander seeds
1 teaspoon paprika
1 and ½ teaspoons salt
3 cups light stock
2 tablespoons freshly squeezed ginger juice
olive oil
1. Preheat the oven to 180ºC. Line a large baking tray with non-stick parchment paper, and brush it lightly with olive oil.
2. In a mortar and pestle, finely grind the cumin and coriander seeds. Mix the ground spices with the paprika.
3. Put the cauliflower florets in the prepared baking tray. Spread the spices and salt evenly on top of the cauliflower. Roast the cauliflower in the oven for 30 to 35 minutes, or until golden brown.
4. When the cauliflower is done roasting, heat 1 tablespoon of the olive oil in a large pan, over medium heat. Add the onion and fry for 5 to 8 minutes, or until translucent.
5. Add the stock to the pan and bring to a boil. Finally, add the roasted cauliflower and turn off the heat.
6. Now, using an upright blender, purée the soup until very smooth. Add the ginger juice, mix well to incorporate, and serve immediately.
Be the first to like this post.
One Response
I agree, cauliflower is so versatile. I'm not a huge fan of it by itself but it goes in everything!