Hummus Rojo
Some friends came over for dinner tonight. On the menu, apart from the seitan bolognese (main course), and the decadent chocolate cake (that was, obviously, the dessert), I served some hummus with toasted pitas as an appetizer. I came across an unsual hummus recipe on Rose Elliot's Vegetarian Supercook, and I was looking forward to trying it. Today was the day I finally gave it a try, and honestly I regret I haven't done it before. I've a made a couple tweaks to the original recipe though, and my version includes ground cumin and lemon juice, as those are the ingredients I always use when making this particular entrée. Please note that this Hummus Rojo tastes really differently from the traditional fair: the roasted peppers are the main, dominant flavor in here, and their natural sweetness is complemented by the addition of a little something of agave nectar. On the same hand, the chickpeas mainly contribute for texture and creaminess, but their taste isn't as present as it is in regular hummus. We all enjoyed this very much, specially along with freshly grilled pita bread. If you're curious, give the recipe a try: I know hummus is one of those things you actually don't need another recipe for, but this is one is quite distinct and delicious on its own right. Wish you all a great weekend ; )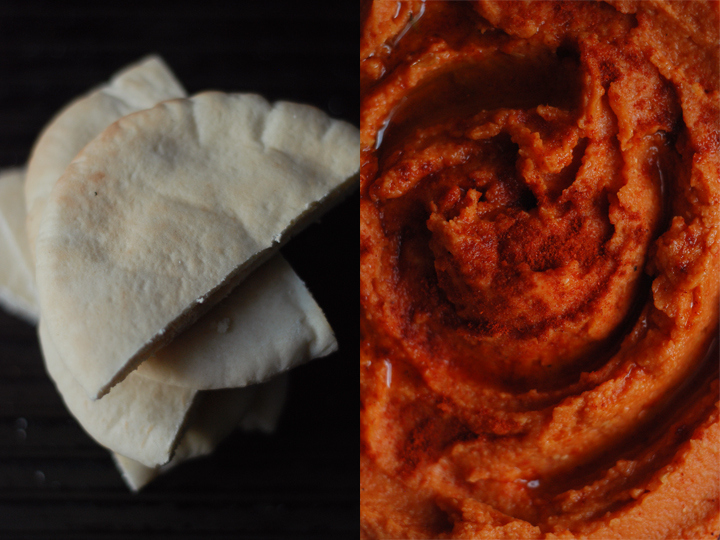 Hummus Rojo
(serves 6)
400 grams cooked chickpeas (canned is fine)
150 grams roasted bell peppers, thinly sliced
1 small garlic clove
1 teaspoon agave nectar
½ teaspoon salt
1 teaspoon ground cumin
2 tablespoons lemon juice
olive oil
paprika, for garnish
a few slices of toasted pita bread
1. Put all the ingredients in the bowl of a food processor and process until smooth. Have a taste and adjust the seasonings, if needed.
2. Transfer the hummus to a deep plate. Drizzle some olive oil and sprinkle a bit of paprika on top. Serve along with a few slices of toasted pita bread.
inspired by Rose Elliot's Vegetarian Supercook, published by Octopus Publishing Group, 2006
4 Responses
I love roasted bell pepper dip and hummus (in fact I made both recently) but never thought of combining the two. What a fantastic idea!! Beautiful photo too! I'm so glad I discovered your blog.

Love the presentation- looks delicious!

What a fantastic hummus variation. It looks so delicious.

I'd love for you to submit one of your beautiful photos, and a link to your post, to my new vegetarian food photo gallery showcasing beautiful and flavorful vegetarian food.